Armoniel + Challenge
Two devilish characters & a new challenge!
https://www.youtube.com/watch?v=ZSdWnNO4B2U
WARNING:
THIS VERSION IS FOR REPENTANCE ONLY.
THE AFTERBIRTH+ VERSION IS AVAILABLE ON THE STEAM WORKSHOP. THIS MOD IS INCOMPATIBLE WITH
Specialist Dance for Good Items
DO NOT USE THIS MOD ALONGSIDE ANY OTHER ARMONIEL MODS.
OTHER REPENTANCE ARMONIEL MODS:
-
Full Version
-
Just the new items, no unlocking required!
-
Just the new challenge
RECOMMENDED FOR USE WITH THIS MOD:
-
Completion Marks for ALL Modded Chars!
CHARACTER:
Armoniel
is a devilish new character who is prepared to make sacrifices in order to gain power. Quite devilish indeed-
He can only encounter Devil Rooms!
As long as he lives, the light of an Angel Room will never grace him after a grueling boss fight. However, he is primed to make the most of it. He starts with a whopping FIVE hearts (four red, one black) and a Goat Head, plus any Devil Room he enters is guaranteed to have at least one item on offer. So, there's plenty of opportunity to be had in Deals with the Devil. As for Key Pieces, just ask some of his friends in the Devil Rooms (with a bomb).
He also starts with the Sacrificial Altar if you beat the new challenge - No Pain, No Gain!
TAINTED CHARACTER:
The Sacrifice
Tainted Armoniel
is a new, subversively tricky character with a lot of potential. He starts with
SIX
(?!) red hearts, high speed & damage, and a new pocket-slot active item. Pedestal items he encounters are often accompanied by a second one, which costs a heart container. He can also sacrifice heart containers with his active item to trigger a Diplopia effect, turning meat into EVEN MORE ITEMS! The thing is, he has a troubled relationship with HP, as
he can have no more than six hearts of any kind, and he can't even pick up red hearts from the ground!
Plus that active item of his doesn't just take away heart containers,
it replaces them with broken hearts, effectively making his maximum health even smaller.
What this all means is that you can grow powerful quickly, but getting carried away will come back to bite you later! Strike a good balance, and success will be yours!
CHALLENGE:
Do you need more pain in your life? If so, there's a new challenge for you:
No Pain, No Gain
! In this challenge, you play as Maggy with 8 red hearts. Grabbing pickups, besides hearts and batteries, hurts you now! Worse yet, pedestal items all cost a heart container. Ouch! At least the Shops are still normal.
COMPATIBILE WITH THESE MODS:
-
External item descriptions
-
Encyclopedia
- Any mod that uses
Music Mod Callback
QUESTIONS:
Q :
Is this compatible with co-op?
A :
It should be! Everything has been designed/reworked with the possibility of multiple players in mind. While this has been tested, the testing wasn't exactly extensive.
Q :
Do I need to unlock certain vanilla content before this mod can use it?
A :
Content from this mod can provide indirect access to locked vanilla content, with one exception: The new challenge can only be accessed if you have unlocked the Womb.
THANKS TO:
- Lytebringr, for their fantastic
tutorial series
- The Modding of Isaac community, the Sewing Machine Fan Club, and Wofsauge's Modding Central for help and advice
- Hopefully you, for letting me know about any concerns in the comments!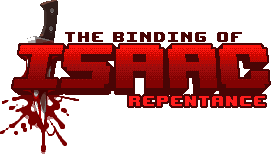 x
3
- Made function recognition of multiple players EVEN BETTER
- Fixed Tainted Armoniel's Birthright
- Included change to Tainted Armoniel's Encyclopedia entry, missing from prior update
- Tainted Armoniel no longer spawns extra collectibles if he lacks heart containers
- Tainted Armoniel's extra collectibles now use normal Devil deal prices, if ever applicable
- The price of Tainted Armoniel's extra collectibles no longer changes to 99 cents when rerolled by things like Binge Eater/Soul of Isaac
- Stage checking function is no longer stupid, so the angel fight music works normally regardless of the game's language