Repentance of Linkin Park Soundtrack Men
It is Soundtrack Menu edition of Repentance of Linkin Park mod



It is Soundtrack Menu Compatible version of Repentance of Linkin Park mod
REQUIRES SOUNDTRACK MENU MOD OR POTATO PACK 2Here you can find Original mod and OG Mod creator please, support this genius
This mod changes all music in Binding of Isaac to (almost) all instrumental Linkin Park songs.
This Repentance version of the mod respectively changes all new music added from the new DLC as well.
(I do NOT own any rights to any songs in this mod. All rights goes to the original creators, Linkin Park and the record company + other covers created by extra bands)
(disclaimer: Some music may be edited)
The list of songs in game:
Basement - Hit The Floor
Cellar - Figure.09
Burning Basement - One Step Closer
Downpour - A Place For My Head
Dross - Pts.OF.Athrty
Reverse Downpour - Plc. 4 Mie Haed
Reverse Dross - Points of Authority
Caves - Easier To Run
Catacombs - Lying From You
Flooded Caves - Until It's Gone
Mines - P5hng Me A*wy
Ash Pit - Ppr:Kut
Vast Empty Chasm - 1Stp Klosr
Chased by Death - VICTIMIZED
Depths - Don't Stay
Necropolis - Breaking the Habit
Dank Depths - Guilty All the Same
Mausoleum - Frgt/10
Gehenna - By Myself
Mom Fight - Qwerty
The Calm: Twisted: TINFOIL
Womb - Numb (no guitar)
Utero - Numb / Encore
Scarred Womb - Wastelands
Corpse - Crawling
Womb Fight - Numb
Mother Fight - With You
??? - Session
Hush Fight - Given Up
Cathedral - My December
Sheol - War
Isaac Fight - High Voltage
Satan Fight - Paper Cut
The Chest - No More Sorrow
Dark Room - Final Masquerade
??? Fight - Wretches and Kings
Lamb Fight - When They Come For Me
Mega Satan - Paper Cut
Void - New Divine
Void Fight - SKIN TO BONE
Ascent - Krwlng
Home - In The End - Tomme Profitt
Home: Twisted - In The End - Tomme Profitt
Dogma Fight - In The End
Famine - All For Nothing (Vocals)
Pestilence - Given Up (Vocals)
War - War (Vocals)
Death - Rebellion (Vocals)
Final Boss - Mark The Graves
Main Menu - Wth>You
Credits - Sorry For Now
Isaac's Death - Drawbar
Boss Fight - Forgotten
Boss Fight Alt - All For Nothing
Boss Fight Repentance - We Made It
The Calm - One More Light
Greed Fight - Rebellion
Library - Nobody's Listening
Store - Shadow of the Day
Arcade Room - Enth E nd
Angel Room - Fallout
Deal With the Devil - The Summoning
Challenge Room - A Light That Never Comes Back
Boss Rush - By_Myslf
Planetarium - Numb (Piano)
Secret Room - Waiting for the End
Secret Room Alt - Wisdom, Justice and Love
Super Secret Room - Somewhere I Belong
If you enjoy this mod, please rate and favorite.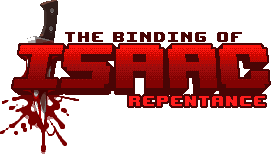 x
2