Antibirth Extended Music
The new tracks for Antibirth, looped properly and in game!



WHAT DOES THIS MOD DO?

There are 5 new Antibirth songs that are not released in the official mod download yet. This mod adds those songs to the game.


OK, WHICH ONES?

The songs included in this mod:
Marble Forest (Catacombs)
Misericorde (Isaac Fight)
Morphine (Dark Room)
The Hammer of Pompeii (Necropolis)
Underscore (Credits)


COOL, ANYTHING ELSE?

All of them are well looped, but I had to cut off the very beginning of the Isaac Fight so it wouldn't sound awkward. Also, the game seems to have this weird issue where custom floor music is much quieter than the rest of the in-game music. I don't really know of a way to fix this.

Enjoy!

Credits for the music goes to Mudeth, of course.
https://mudeth.bandcamp.com/releases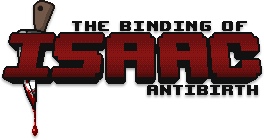 x
16
- Fixed Isaac Fight song being sped up